In early September, Alaskan native Tana Grenda was dropped off alone in a remote part of Alaska for a solo Carabue hunt.
Grenda had taken her rifle and bow for the hunt, and her main goal was "to get a bull down, fill my tag, get some meat, and get home to my family in one piece." After spotting a monster bull at 850 yards, she decided to take her first attempt with her bow.
Grenda closed the distance and eventually ended up on her belly crawling to within bow range at 37 yards. She could not get a clean shot on the bull before the wind turned, and she was busted. Grenda watched the bull run away, but she didn't give up. She turned and sprinted 500 yards back to her rifle and found the bull, but he was out of range. Luckily the bull circled and came into range at 350 yards, and Grenda took a rest on her bipod and took the shot. The bull only ran about 50 yards and dropped.
Grenda is no amateur when it comes to hunting Alaska. She killed a Boone and Crocket carabue two years ago that scored 455. "I didn't think I would ever get a bigger bull than my other caribou—but I just did. And I did it solo," wrote Grenda in an Instagram post. "It's hard to put into words what this hunt meant to me."
Grenda's bull does not have an official score, but it is believed to be between 460″ and 470″. The main beams measure 59″ with a spread of 55″!
This solo hunt took place after an Alaska brown bear nearly mauled Grenda. She was hunting with her brother when a brown bear charged the two, and her brother Trevor Schneider put three rounds into the bear with his pistol after his rifle jammed. The bear died 5 yards from them!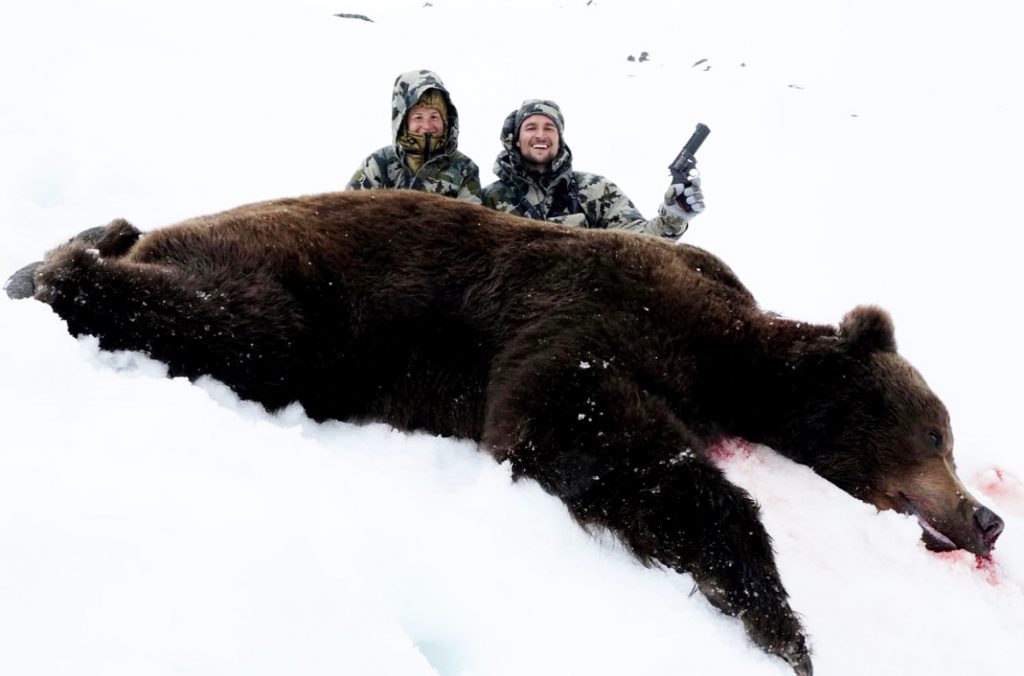 "Four months after a bear attack, I would not have seen myself being dropped off alone in the wilderness," she wrote. "I may consistently kill year after year, but none of it would be possible without my right-hand man Adam, answers to prayer, and the people back home who help watch over my kids while I'm gone."