"It was an adrenaline rush," Rick Ellingson told Fox News. Ellingson went up a river in his boat to set some stands in North Dakota. He was not planning to hunt that day.
After Ellingson was heading back down the river, he spotted the moose just standing on the bank. The moose headed away but Ellingson knew how to cut him off. He went down a backchannel and set up on the moose. It walked right to him! "My heart just started thumping," said Ellingson.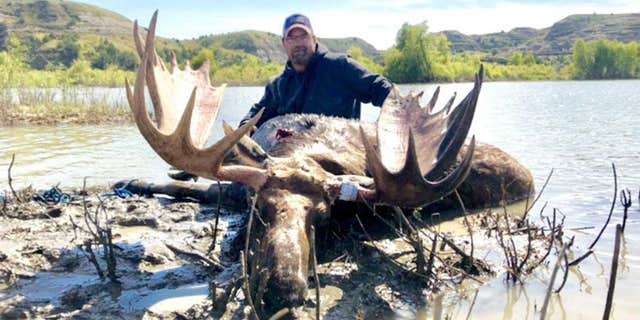 He had a tight 25 yard shot and hit the deer in the chest. as the deer turned he hit it in the back leg and then sent a third arrow into the femoral artery. The moose dropped instantly.
Rick told me that he had to use jet skis and his boat to get the moose out of the flooded backwoods!
There is a 60 drying period on the antlers before it could be officially scored. Fast-forward to November, and Ellingson is now recognized as having taken the largest moose in North Dakota by bow and arrow, at 190 6/8 inches — shattering the previous record of 166 7/8 inches from 2012.
Congratulations on this amazing moose!